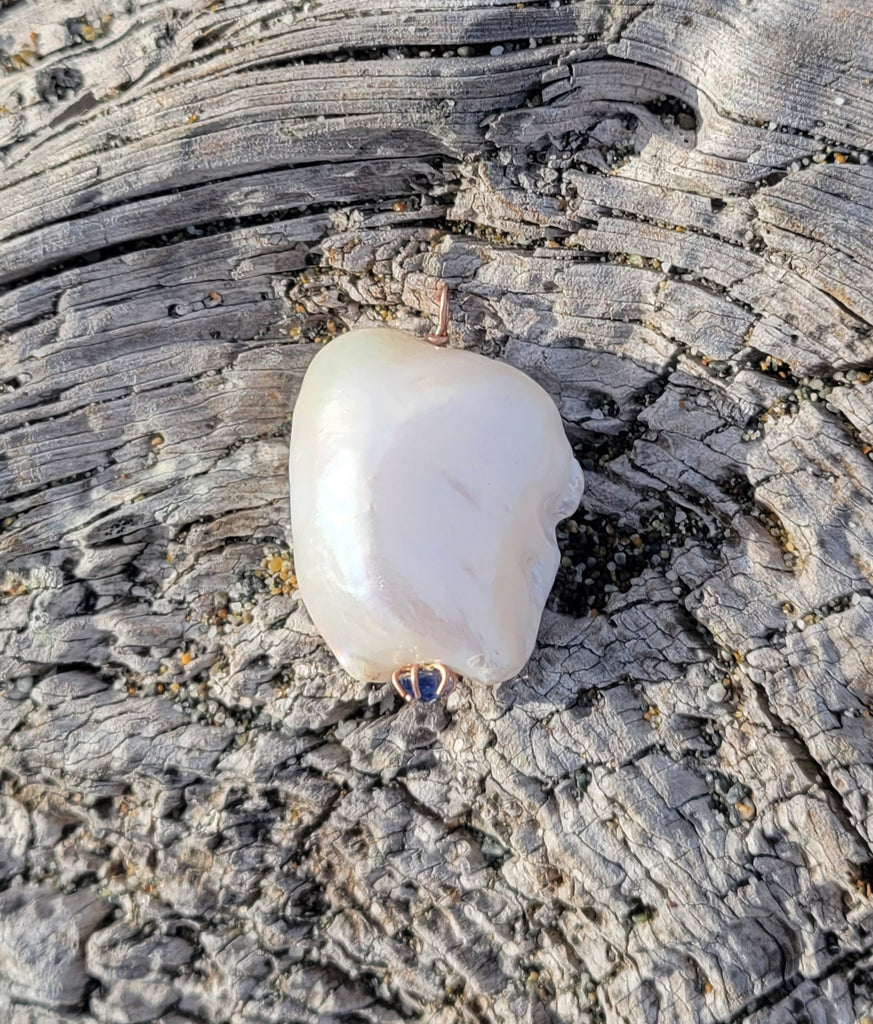 Sea Pearl with Cylon Sapphire 14k Rosegold Pendant
The Sea Pearl Cylon Sapphire Pendant is a one of a kind piece and my first all rose gold creation.  The pearl is lusterous, baroque in shape and heavy compared to a freshwater pearl.  Sea Pearls are much more rare than freshwater Pearl's and they're known for being heavier.  I prongset a rosecut Cylon Sapphire to mimic the color of the ocean at the bottom of the pendant.  It connects to an 18 guage thick 14k rosegold wire running through the pearl that creates the bail on top.  The bail has a large enough opening to fit on monst standard gold chains.  The total weight of the pendant is 12.85 grams.  The Cylon Sapphire is 3 1/2mm x 4mm and the Sea Pearl is 1 1/4" x 7/8" x 1/2" in size.  This one of a kind heirloom pendant can be worn either way.
Pearl symbolizes innocence, faith, truthfulness and purity. It resonates with the sacral and heart chakras. Pearl is known as the "Stone of Sincerity", as it is symbolic of truth and personal integrity. Pearl promotes a happy marriage and family tradition. It is a wonderful tool to help regulate the female reproductive system and combat the symptoms of PMS as Pearl naturally connects our bodies with the rhythms of the tides and moon. It helps one to realize their true nature and to love themselves more. Pearl helps bring happiness and uplift moods.